Marvel veröffentlicht eine kanpp 4m große Bronze-Statue von Captain America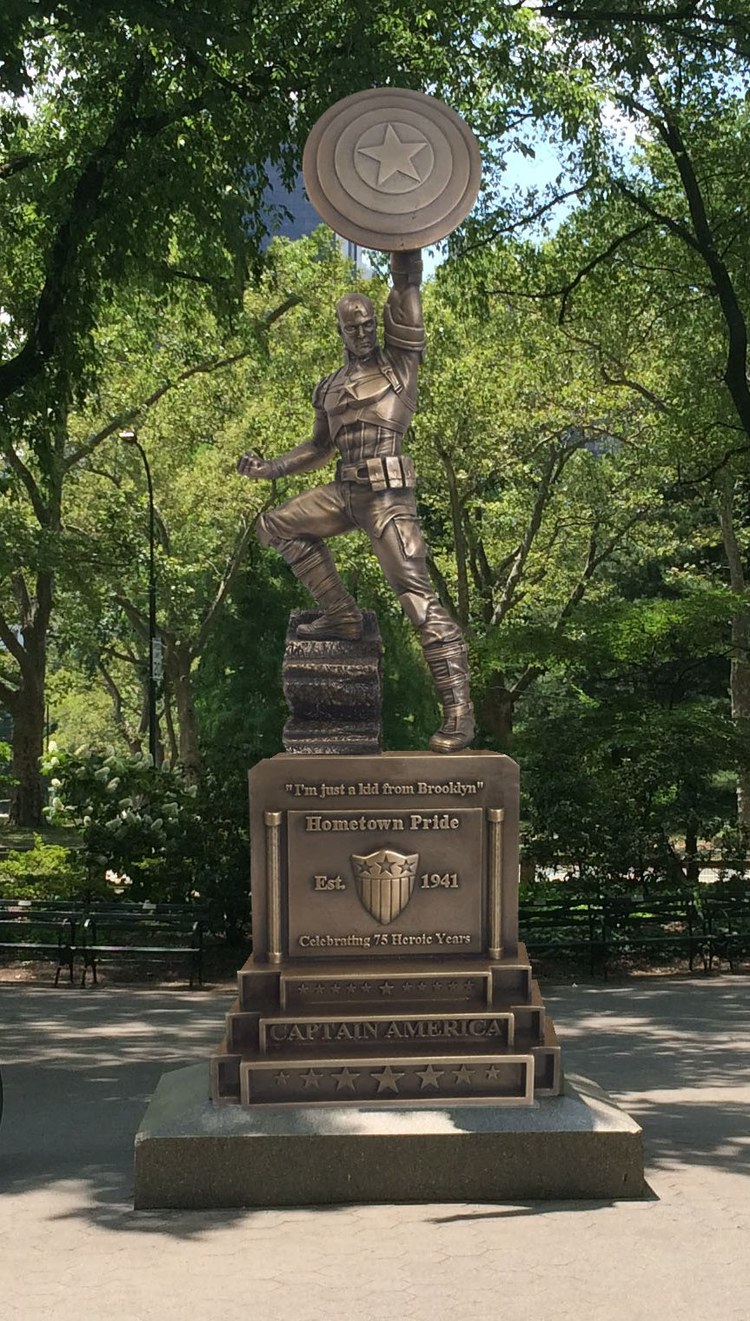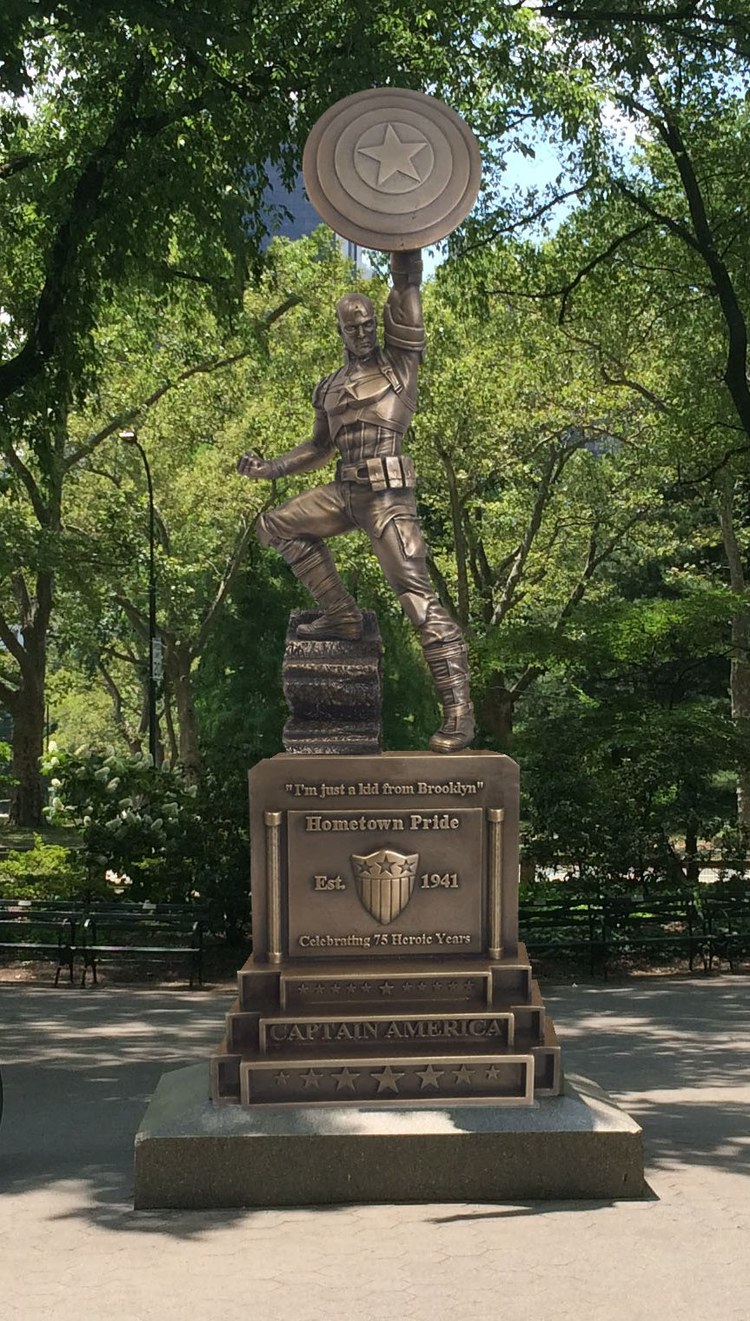 Zum 75. Geburtstag des Captains hat Comicave Studios eine 13 ft (knapp 4m) große Statue gestaltet, die nun von Marvel auf der Comic Con in San Diego veröffentlicht wurde. Es wird ein bisschen propagiert, dass die Leute aus Brooklyn sehr Stolz auf ihren bekannten Sohn sind, allerdings wird die Statue, nachdem die Comic Con fertig ist, auch nur ein paar Wochen in dem Bezirk verweilen, um dann weiter herumgereicht zu werden. Aus der Pressemitteilung konnte ich aber nicht erkennen, wo sie dann schlussendlich aufgestellt werden wird. Vermutlich wird sie dann wieder eingeschmolzen und zu Pennies gepresst werden. Sie schreiben:
Since his creation in 1941 by Jack Kirby and Joe Simon, Captain America has gone through numerous evolutions, butalways remains as one of the world's most influential and inspiring Super Heroes. Kicking off a new phase of the year-long celebration of 75 years of Captain America, Marvel Disney Consumer Products and Interactive Media have unveiled a slate of heroic activations taking place at San Diego Comic-Con and beyond to honor the First Avenger, along with a wide range of celebratory merchandise.

Headlining the Captain America 75th anniversary celebration, Marvel has collaborated with high-end collectibles maker Comicave Studios to create a one-of-a-kind Captain America statue that will be displayed at the Marvel booth #2329 at Comic-Con International on July 20. Comicave Studios worked closely with Marvel artists in New York and a Brooklyn-based sculptor to design the bronze tribute, standing at over 13 feet and weighing 1 ton. The statue will continue to stand tall on the show floor throughout San Diego Comic-Con for photo ops with fans, and 1/12-scale bronze replicas of the statue will be available for purchase. Plus, a custom comic book was created by Marvel Publishing writers and artists to integrate the statue into new storytelling. This one-of-a-kind comic will be available in limited quantities at San Diego Comic-Con and future Captain America events.

Following SDCC, the commemorative statue will journey via truck across the country to Brooklyn, NY – the hometown of Steve Rogers – for a limited engagement in Brooklyn's Prospect Park. Fans can follow the truck along its cross-country route through photos on social media sites like Marvel and StyledByMarvel Instagram. The statue will be on display in the Children's Corner of Prospect Park for a two-week temporary installation, kicking off with a dedication ceremony and community event on August 10th from 1-3pm. In the evening, a special viewing of the recent blockbuster film, Marvel's Captain America: Civil War, will take place in Prospect Park as part of the culmination of the Brooklyn Borough President Eric L. Adams' "A Summer Movie Under the Stars" program, which will be airing four Captain America-focused movies every Wednesday from July 20th to August 10th.

"To the rest of America and the world, he's Captain America; to us, he'll always be Steve Rogers, 'just a kid from Brooklyn,'" said Borough President Adams. "Brooklyn is proud to be the base of celebrations for Cap's 75th anniversary, which will be capped by a larger-than-life statue traveling around our borough — befitting of this larger-than-life character. Prospect Park is the place to be this summer to enjoy the Captain America!"
After the half-month stop in Prospect Park, the Captain America statue will move to the plaza outside Barclays Center on Atlantic and Flatbush Avenues for September, during which several Marvel fan activations take place. From late October through the remainder of the year, the statue will adorn the soon-to-be-opened Bed Bath & Beyond® in Sunset Park, Brooklyn. Fans of all ages will enjoy a specially re-designed statue base, for heightened interactivity and photo opportunities with Captain America, as well as see and shop for a variety of unique Marvel items, including limited quantities of scaled replicas of the bronze statue itself.

"Since 1941 Captain America has remained one of the most influential Super Heroes in comic book history," said Paul Gitter, senior vice president, licensing, Marvel at Disney Consumer Products. "He has evolved as a character throughout the years, but remains constant as a moral compass within the Marvel Universe and leader of the Avengers. The tribute statue and other activations are the perfect way to honor 75 years of this iconic Super Hero and to celebrate the borough of Brooklyn in New York City."
Außerdem wird es dazu noch einen Comic geben, der natürlich auch nicht überall verfügbar sein wird, der aber die Statue auch ins Marvel'verse holen soll. Okay!
Es wäre ja schön, wenn sie die Statue dann einfach irgendwo in Brooklyn belassen würden, aber vermutlich darf man nicht einfach irgendwo Statuen von Superhelden aufstellen, wie man gerade mag. (via)